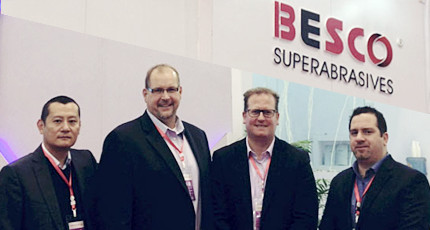 A&G EXPO 2013
WWSA's joint-venture partner in Kaifeng, China, Han Jun–President of BESCO Superabrasives, David Simpson–VP of WWSA Solids, Chris Winkel–President of WWSA, John Chalvadakis–Operations Manager of WWSA are pictured outside BESCO's booth at the 2nd China International Abrasive & Grinding Exposition in Zhengzhou, China on November 15, 2013.
WWSA and BESCO Superabrasives have been joint-venture partners since 2007 and have been providing world-class superabrasive products to over 125 customers in 23 countries around the world. WWSA/BESCO will continue to increase our superabrasive product offerings with a focus on developing new CBN products for ferrous grinding and solid PCBN products for ferrous materials processing.
WWSA/BESCO's state-of-the-art manufacturing facilities totaling over 75,000 square feet in Boynton Beach and Kaifeng provide us with the ability to control the entire superabrasives manufacturing process which is critical in ensuring product integrity and consistency.